February 18, 2022
Press Contacts
Janice Dobson
(406)551-4098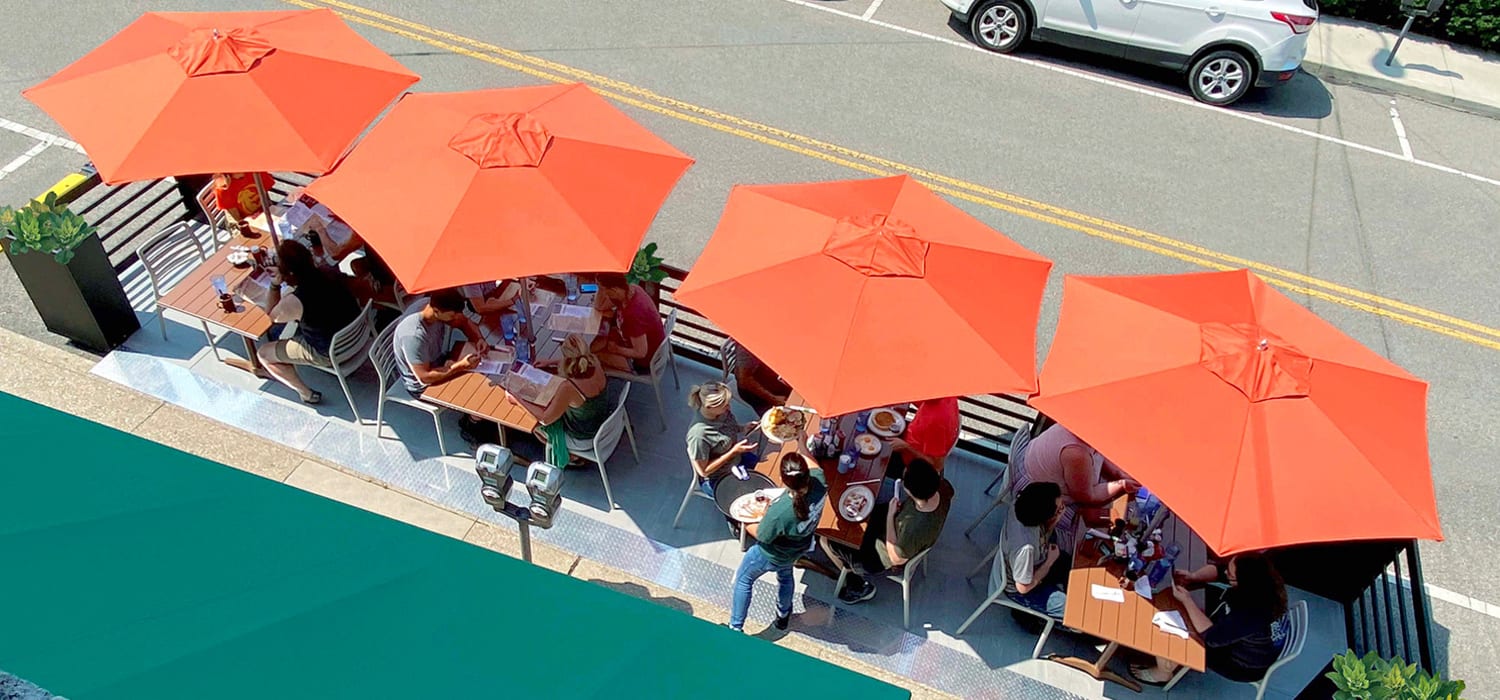 BOZEMAN, Mont. —
Over the last two years, curbside parklets have helped restaurants across the nation retain and grow their business during the pandemic. Today, Janice H. Dobson, Business Development Director at Archatrak, a major supplier of StreetDeck parklet & streatery kits, shares her top predictions for al fresco dining in 2022.

1. Restaurant prosperity will be prioritized again.

Now that parklets and streateries have been routinely used for some time, the value that these curbside decks have offered nearby restaurants is easily quantifiable.

"Restaurant owners can look at it mathematically," Dobson explains. "They know the value of every seat they offer and I encourage my StreetDeck clients to ask themselves, 'what could 8 extra seats, 12 extra seats, 20 extra seats, mean for your business?' Often, they'll find that, in a relatively short period of time, these decks can pay for themselves and continue generating revenue years afterward."

Despite this, efforts to strengthen relaxed curbside deck regulations that began during the height of the pandemic have recently put some restaurant owners in a difficult position. It's a contentious situation that Dobson wants to see resolved in the future.

"With our StreetDeck kits, restaurant owners should never have to worry about being forced to demolish their grant-funded streatery structures for something like scheduled street cleaning, or maintenance," Dobson asserts "Regulations are ever-evolving, but these decks are as simple to disassemble and store as they are to put together. When the city allows it, you'll simply reassemble your deck– good as new."

2. More curbside platforms will emerge specifically designed for restaurant rows.

2021 saw the beginning of a trend towards parklets and streateries spanning rows of restaurants rather than just single commercial building units. In College Park, GA for instance, Archatrak supplied what is possibly the longest parklet in the USA with a continuous deck length of more than 85 feet.

"Restaurant rows offer such a great opportunity for neighboring restaurants to band together, split costs and create a vibrant outdoor atmosphere for the community along on the street," says Dobson. "Color-coded café furniture can be a fun way to divide the deck space and showcase the unique style of each restaurant on the block."

Although the modularity of StreetDeck allows for virtually unlimited length, the width adjacent to the sidewalk is commonly limited to 6 feet to suit city guidelines on parallel parking spaces outside of restaurants. For applications like restaurant rows, the 6 ft. wide StreetDeck not only allows foot traffic to flow freely along the sidewalk, but also gives the opportunity for restaurants to offer a socially distanced dining space out in the open air.

3. Some will winterize, others will accessorize.

With the expectation that the pandemic would be basically over after the winter of 2020, came the belief that the summer frenzy of parklet construction would end as well. Surprisingly, even in the coldest states, many parklets remained active throughout the winter season.
"Humans are social beings," Dobson explains. "We crave connection just as much as we crave cheese-covered breadsticks straight from the oven. Curbside decks can give you both – even when it's cold outside, even when you have to stay 6 feet apart, there are certain cravings that you just can't ignore forever – especially when they benefit local businesses."

Some heating and roofing can be a worthy investment for restaurant owners in extremely cold climates, but for others, a fabric canopy or series of umbrellas will be enough to keep curbside decks alive all year round.

4. Cities will continue to hone their ADA accessibility guidelines.

"When the pandemic started, cities had to adapt rapidly and parklets were seen as the golden solution to help downtown restaurants thrive," continues Dobson. "Now that some time has passed, regulations are being revised to ensure that these structures are fully accessible for every potential customer making their way down the sidewalk."

ADA accessibility guidelines applied to parklets are generally not unduly onerous, but for a restaurant's curbside deck proposal to be accepted by the city, one basic requirement is that any gap between the deck and the curb should be seamlessly bridged by a wheelchair-accessible ramp. In the case of StreetDeck, every kit includes wide ramps of this description that span the length of the deck. Additionally, support pedestals under the deck allow adjustments to be made so the deck surface aligns precisely with the sidewalk edge.

5. More creativity in parklet decoration will be cautiously encouraged.

"With cities now relatively certain about what works and what doesn't work from a structural standpoint, it may not seem like there's much room left for creativity in curbside decks," Dobson says. "Yet, we are now seeing wildly imaginative, 3-dimensional paintings on our StreetDeck parklets with the railings and planters serving as a canvas for creative expression."

For many, art is what makes a community feel like home. With the pandemic causing so much distress across the nation, affordable opportunities to add public art are being sought after more and more. Hiring a local artist to paint a parklet is a simple and effective way to achieve that goal.

"I'm looking forward to the next chapter in shared spaces," Dobson continues. "The parklet and streatery discussion started off in a reactive phase, now we're in a proactive phase. I think next will come a chance for restaurant owners to really connect with the al fresco side of their business and unleash their creativity."
###
About
Archatrak is a national supplier of porcelain pavers, wood deck tiles, pedestal support systems and urban, outdoor amenities. To learn more about Archatrak's StreetDeck modular deck kits, visit us at www.archatrak.com/modular-decks.