September 08, 2021
Press Contacts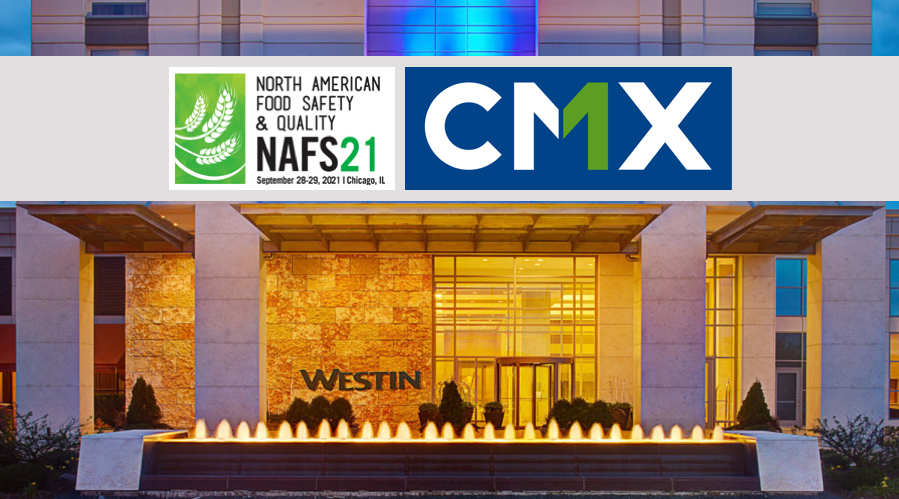 SAN DIEGO —
CMX Teams Up with Restaurant Brands International, Inc. to Present at 2021 North American Food Safety & Quality Conference
September 28 #NAFS21 workshop presentation to focus on quality assurance, innovation, and digital transformation in the quick-service restaurant industry
San Diego, Calif. – September 8th, 2021 – CMX, a leading provider of cloud-based Enterprise Quality Management Software (EQMS), today announced it will join forces with Restaurant Brands International, Inc. (RBI), a key customer, to present a workshop on quality assurance and innovation at the North American Food Safety & Quality (NAFS21) Conference in Chicago.
The workshop session, "Quality Assurance & Innovation: How RBI Balances Quality and Food Safety with the Speed of Product Innovation," will be held September 28 from 11:50 a.m. to 12:25 p.m. in Workshop Room 2 in the conference hall.
CMX Chief Marketing and Product Officer Jim Hardeman, along with RBI's QA Director, North America, Tiago Brilhante, will be the featured presenters. "As one of the largest quick-service restaurant companies in the world, comprised of three of the most prominent and iconic quick-service restaurant brands including Burger King®, Tim Hortons®, and Popeyes®, RBI has made an unparalleled commitment to quality, food safety, and innovation," said Hardeman. "The strategic best practices that will be shared by Tiago and myself will benefit professionals from all sectors of the restaurant industry."
Topics covered will include:
Taking a risk-based approach to bringing new products to market with speed and control
Leveraging technology and business intelligence to predict approval timings and monitor progress towards milestones
Gaining alignment and maintaining transparency between suppliers, lab partners, and QA to ensure consistency, quality, and food safety during and after launch
Product Lifecycle Management (PLM) best practices for different markets, and managing consistency and monitoring ongoing performance at scale
For those not able to attend the workshop, CMX will be sharing updates and takeaways on its social channels and blog both during and after the event.
Taking place September 28-29 at the Westin Chicago North Shore, the 2021 North American Food Safety & Quality Conference brings together the "who's who" of food safety, quality, and compliance executives, cutting-edge service and solution providers and media partners for North America's premier food safety event. CMX is a 2021 event sponsor.
# # #
###
About
About CMX Leading brands and service providers including Chick-fil-A, Burger King, Arby's, Taco Bell, Raising Cane's, Raley's Supermarkets, Hasbro, Two Men and a Truck, and Bureau Veritas trust CMX's cloud-based Enterprise Quality Management Software (EQMS) CMX1 to help them achieve and maintain Operational and Quality Excellence. For over a decade, CMX has led the market with the most comprehensive, user-friendly, cloud-based EQMS platform for retail, food, consumer goods, and service providers. It's the only enterprise solution to effectively combine supply chain quality and operational excellence into a single, fully configurable operating platform.  For more information, please visit www.cmx1.com or call 1-858.997.2140